No Faith in Blair
No Blair in our Faith Communities
Safeguard integrity and justice in interfaith dialogue for Britain's plural society. Join us as people of diverse faiths working together to oppose the infiltration by the Tony Blair Faith Foundation into our faith communities. Challenge the greedy and self-serving among our religious leaders who have taken Blair's Blood Money or built political alliances with Blair's Foundation.

The No Faith in Blair Movement is an alliance of concerned women and men from diverse faith-based and peace organisations, committed to protecting the sanctity of grassroots interfaith dialogue against the politicians of power. Our friends include the Stop the War Coalition, the Campaign for Nuclear Disarmament, the Blair War Crimes Foundation, and British Muslims for Democracy.
Other peace activist organisations such as Christian CND are also sympathetic to many of the ethical issues raised by Tony Blair and his activities which damage interfaith relations.



Statement by Progressive Muslim Interfaith Leaders on the Tony Blair Faith Foundation
As progressive British Muslims with a long and established track record of positive dialogue with people of other faiths and respect for differences in our diverse society, we rightly deplore the way that a number of national interfaith organisations have promoted, accepted money from, or actively collaborated with the Tony Blair Faith Foundation.

The Inter Faith Network for the UK has accepted the Tony Blair Faith Foundation as a full member, and the Christian Muslim Forum – the national body for dialogue with the Muslim community – has partnered with Blair's organisation despite criticisms, while the Cambridge Inter-Faith Programme has a long history of active collaboration with, and promotion of a man whose hands are bloodied through his War Crimes against thousands of innocent children, women and men, not to mention the lies he has told the British people in prosecuting his illegal wars.

The sensitive enterprise of positive interreligious engagement by people of diverse faiths, including the young, just like other good causes such as the eradication of malaria – all these are an absolute moral good. But whatever short term gains to such good causes that may come from accepting Blair's Blood Money and his agenda of self-promotion, are vastly outweighed by the long term and irreparable damage done to these same good causes by their being associated with the name of a War Criminal. Nowhere would the destruction of trust be more disastrous than in the arena of building honest interfaith dialogue with the grassroots British Muslim community.

In this regard, the strongest condemnation should be directed at Lambeth Palace and the Archbishop of Canterbury's Advisor on Interfaith Relations, whose role has been instrumental in promoting Tony Blair and his organisation's rapid infiltration into interfaith dialogue in the UK. [See note on Guy Wilkinson below]

Distinguished Catholic Christian scholars have correctly understood the real "faith agenda" behind Tony Blair's organisation in his seeking to interfere in the internal affairs of ancient religious traditions and "remake" them in his own political image:

"This project threatens to set us back to an age in which political power was ascribed the mission of promoting a religious confession, or of changing it. In the case of the Tony Blair Faith Foundation, this is also a matter of promoting one and only one religious confession, which a universal, global political power would impose on the entire world". (Professor Michel Schooyans of the Catholic University of Louvain)

In his project, Tony Blair has found willing stooges in the selfish, greedy and ambitious among religious and interfaith leaders. As people of diverse faiths, the time has now come for all believers in God to stand together in upholding our shared moral values of justice, enjoining that which is right and forbidding what is wrong, in love for the neighbour, and protecting the most defenceless and voiceless. Tony Blair should not be in our churches, our mosques, our temples, or our synagogues. He should be in jail.


Imam Ebu Bekir, Chair of the Turkish Muslim Organisation

Tamsila Tauqir MBE, Director of Safra Project and Interfaith

Sharhabeel Lone, Chairman of Kentish Town Community Organisation

Dr Muhammad Al-Hussaini, Director of Abraham House
28 January 2010
NOTE: Guy Wilkinson - Tony Blair's Religious Politician in Lambeth Palace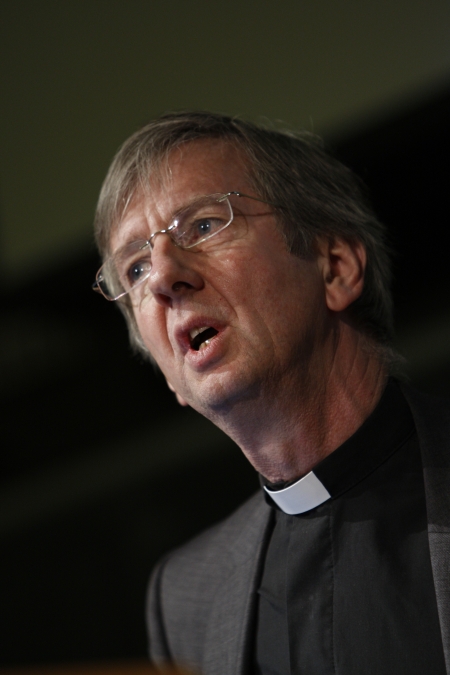 Undoubtedly one of the principal architects of the Tony Blair Faith Foundation's meteoric rise to infiltrate the interfaith dialogue establishment in Britain is Guy Wilkinson, the Archbishop of Canterbury's Advisor on Interfaith Relations. Wielding the power of its financial sponsorship and political control, Lambeth Palace and the Anglican hierarchy continues to exercise a disproportionate political influence over national interfaith bodies, including the Inter Faith Network and the Christian Muslim Forum, while the CMF has had a foundational relationship with Tony Blair since while still Prime Minister. In December 2005, a complaint of Criminal Harassment was filed with the Metropolitan Police and actioned against Guy Wilkinson, on account of bullying activities by him in connection with his attempted suppressing of facts concerning the Christian Muslim Forum, his Lambeth Palace-sponsored project.
Events
Please watch this space for our upcoming events and actions...and sign the petition of the Blair War Crimes Foundation, to bring Tony Blair to trial in the International Criminal Court.
Contact
E-mail us: enquiries @ NoFaithInBlair.org
This is a new construction page, and the website is currently under development. Please visit us again soon!